Farm Fence Installation & Fence Repair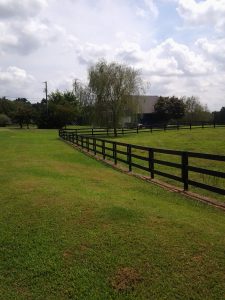 Our Alabama farm fencing installation are second to none and make a great choice for the local ranches.
We have the experience to make sure that your animals are confined and we can give your property a nice appearance with our farm fence install & repair service.
We Install and Repair All Kinds of Farm Fences
Whether you need a four rail fence for horse or woven wire T Post to reduce cost, or a PVC Farm Fence to prevent repairs and maintenance, Southern Fence can deliver you the best farm fence that money can buy.
We can install any kind of farm fence such as wood farm fences, Vinyl fencing, T-Post fences with barbed wire, Cross Buck fencing Fence,, you name it...   Just give us a call today. 256-557-0080